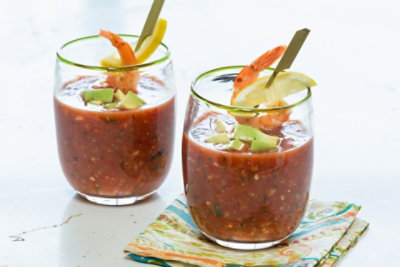 Roasted Tomato Gazpacho
Try a new take on summer soup. Warmer weather means eating lighter, more refreshing foods, and gazpacho is a summer staple! We have freshened up the recipe for this classic cold soup with refreshing seasonal flavors. Swapping roasted tomatoes for uncooked ones adds new depth to this Roasted Tomato Gazpacho.
Total original price
* Estimated price based on adding all ingredients to cart.
Roasted Roma Tomatoes
12 roma tomatoes (diced into 3/4-1 inch pieces)
5 tablespoons extra virgin olive oil (divided)
1 teaspoon kosher salt
pepper to taste
Roasted Tomato Gazpacho
1 english cucumber (sliced in half and seeded but not peeled, cut into 1 inch chunks)
1 red bell pepper (seeds and ribs removed, cut into 1 inch pieces)
1 red onion (cut into 1 inch pieces)
3 garlic cloves
3 cups tomato juice
1/4 tbs extra virgin olive oil
juice of one lemon
1 tablespoon sriracha (or to taste)
Optional
Garnish with avocado, shrimp and lemon wedges
Cooking Instructions
Step 1
Preheat oven to 450 degrees. 
Step 2
On a rimmed baking sheet combine tomatoes, 3 tablespoons olive oil, salt and pepper by tossing together.  
Step 3
Bake for 40-45 minutes. Remove from oven and let cool. 
Step 4
Place in desired storage container and drizzle additional 2 tablespoons olive oil. Store in refrigerator until use. Makes about 2 cups.
Step 5
Add roasted tomatoes, English cucumber, red pepper, onion, and garlic to a food processor.  
Step 6
Pulse until desired size of ingredients is reached being careful not too over process. 
Step 7
Transfer to a large mixing bowl. Add tomato juice, olive oil, lemon juice and Sriracha. Mix well. Cover and chill for 2 hours, or overnight.
Step 8
Garnish with avocado, shrimp and lemon wedges if desired.
All recipe ingredients should be cooked to a safe internal temperature according to USDA guidelines. After preparing a recipe, please store any leftovers in the refrigerator.