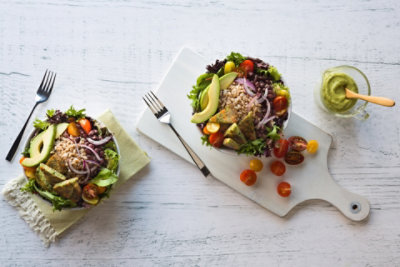 Plant-Based Warm Grain Bowl
Going plant based or simply incorporating more plant-based foods into your meals? Add more veggies to your diet with this delicious, nutrient-packed Plant-Based Warm Grain Bowl! Made with our exclusive O Organics® sweet potato veggie patties, farro, beans avocado and a variety of veggies, this bowl is easy to make and filling.
Total original price
* Estimated price based on adding all ingredients to cart.
Main Ingredients
2 O Organics® Organic Sweet Potato Veggie Patties
2 cups cooked O Organics® Quick Cook Farro
2 cups greens, such as O Organics® Spinach or Spring Mix
2 tablespoons sliced red onion
1/2 cup sliced O Organics® cherry tomato medley
1/2 cup O Organics® black beans
1 small avocado
1/4 cup salsa verde
1/4 cup fresh cilantro
Cooking Instructions
Step 1
Cook veggie patties according to package directions. Set aside.
Step 2
Divide the following ingredients in half between two bowls: cooked farro, greens, cherry tomatoes and black beans. Chop avocado into large chunks and add 2 tablespoons to each bowl.
Step 3
Add the rest of the avocado to a mini food-processor along with salsa verde and cilantro. Process until smooth and creamy. Add water, one tablespoon at a time, until a dressing-like consistency is achieved.
Step 4
Slice patties and add to the two bowls. Toss each bowl with half of the dressing or serve it on the side. Enjoy immediately!
Step 5 :: helpful hints
If no mini food-processor is available, mash avocado into salsa verde with the back of a fork
Step 6 :: helpful hints
Season farro with sea salt, if desired.
Step 7 :: helpful hints
Use any OOrganics® veggie patties you enjoy, such as: Organic Black Bean Patties Southwest Style, Organic Veggie Patties with Mushroom, Carrots & Celery or Organic Quinoa Patties with Quinoa & Kale.
Step 8 :: helpful hints
Add a tablespoon of crumbled cotija or queso fresco cheese for added flavor.
All recipe ingredients should be cooked to a safe internal temperature according to USDA guidelines. After preparing a recipe, please store any leftovers in the refrigerator.