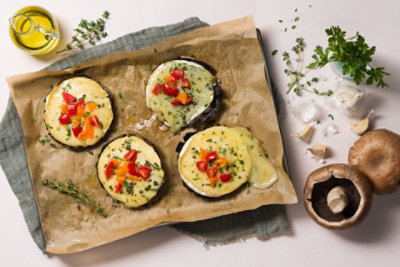 Brie & Herb-Stuffed Portobellos
Our Brie & Herb Stuffed Portobellos are a great vegetarian option for a main or side dish or apps! For a bite-sized version, use baby bella mushrooms instead of portobellos. Rich and savory, this one will be a crowd pleaser for sure. And it only takes 20 minutes to make!
Total original price
* Estimated price based on adding all ingredients to cart.
Main Ingredients
4 Portobello mushrooms (stem and gills removed)
1 (7-ounce) brie wheel
2 large cloves of garlic
3 Tbs O Organics® extra virgin olive oil
1/2 tsp kosher salt
3 Tbs chopped flat-leaf parsley
1 heaping Tbs thyme
1 Tbs chopped rosemary
1 Tbs chopped sage
Cooking Instructions
Step 1
Preheat oven to 400ºF. In a small bowl, mix all herbs together. Remove one tablespoon of herbs and set aside for topping the mushrooms later.
Step 2
Add to the bowl: olive oil, garlic and salt, stirring together. Put the Portobellos, top-side down, on a baking sheet. Divide the herb-garlic mixture among the Portobellos, spreading the mixture into each cavity, then rubbing the underside of the portobello with some of the mixture as well.
Step 3
Carefully slice the brie wheel into 4 horizontal slices, to make 4 rounds. Place a slice of brie in each Portobello. Bake for 15 minutes.
Step 4
Remove from oven, sprinkle with reserved fresh herbs and serve!
All recipe ingredients should be cooked to a safe internal temperature according to USDA guidelines. After preparing a recipe, please store any leftovers in the refrigerator.