Feel free to change your location anytime.
Sign In / Up

Summary

0

Points Toward
Next Reward

0

Rewards Expiring
End of Month
Feel free to change your location anytime.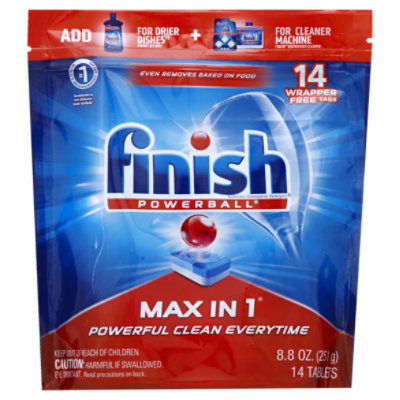 Finish Dishwasher Detergent Powerball Max In 1 Wrap Free Tablets 14 Count Pouch - 8.8 Oz Water, Dipropylene Glycol Phenyl Ether, Lauramine Oxide, Ethanolamine, Fragrance, Alkyl, Trisodium Dicarboxymethyl Alaninate, Colorants.
Powerball, Tabs


Superior (vs. Finish Deep Clean) clean and shine. New. No. 1 tested & recommended. Recommended by more dishwasher brands worldwide (More dishwasher brands recommend finish products worldwide than any other brand. Recommendations as part of Co-marketing agreements). With Activ Blu Technology. Scrubs. Shines. Degreases. Now with Activblu Technology for a superior (vs. Finish Deep Clean) clean & shine. 17x power actions for our superior clean & shine performance (vs. Finish Deep Clean). Quantum 17x: No need to pre-soak; powerful cleaning; cuts through grease; prevents re-deposits; attacks burnt on food; removes dried-on leftovers; cleans tea & coffee stains; no need to pre-rinse; easy dosing; septic safe; chlorine free; removes baked on food; wrapper free; glass protection; scrubs toughest stains 1st time; fast dissolving; cleans in short cycles. Nothing but dishwashing expertise inside. Free from chlorine bleach preservatives. For our ultimate clean & shine. Oxygen based bleaching agents
Warning
Contains: Harmful if swallowed or put in mouth. Eye irritant See precautions on back. Notice: Product may pose a choking hazard to children under 3 years of age. First Aid: If swallowed, call a Poison Control Center or doctor immediately. Have person drink a glass of water if able to swallow. Do not give anything to an unconscious person. Do not induce vomiting. If in eyes, immediately rinse eyes with water. Remove any contact lenses if present and continue rinsing for 15 minutes. If irritation persists, get medical attention. Contains fragrance allergens. Keep out of reach of children. Do not ingest. Do not get in eyes. Contains sodium percarbonate, sodium carbonate, non-ionic surfactants and enzymes. Keep container full closed and out of sight of children. Do not let children handle tabs. Tabs can burst if children put them in mouth or play with them. Never leave and tabs out of container. Avoid
Directions
Handle with dry hands only. Always close the pack after use. handle with dry hands only & remove the product. Place one pre-measured tablet int the main detergent cup and close. It is important that both finish quantum and the detergent cups are dry. The tablets are wrapper-free and are designed to release their contents when they come into contact with water. Do not pierce or attempt to unwrap the tablets. Always close pack after use. Store away from heat and moisture to protect the remaining tablets. Make sure all items are dishwasher safe and separate silver from stainless steel. Wash metal items according to manufacturer's instructions. The optimal water temperature is between 125 degrees and 140 degrees F. On hard water conditions, it may be necessary to continue to use finish jet-dry rinse agent for optimal results finish quantum is safe for septic systems.
About the Producer
Reckitt Benckiser
Disclaimer
Product details/images for convenience only.  Consult Product label for the most current and accurate information.  We assume no liability for any inaccuracies/misstatements about Products listed on our website/app.
© 2019 Albertsons Companies, Inc. All rights reserved.
Sign In or Sign Up
To use this feature, you must sign in or sign up with JewelOsco.com. To return to browsing, close this window
Sign In or Sign Up
To use this feature, you must sign in or sign up with Jewelosco.com. To return to browsing, close this window
Select Your Store
Cancel
Select a store below to add just for U deals and save on your next shopping trip.
Sorry, no stores found in that zip code. Choose your primary store and relevant offers
LOGO or
LOGO Why am I seeing this?
We found multiple stores for you. One could be your favorite while another might be a store near you, or one you browsed in the past. Since some offers vary by store, we want to make sure we're showing you the correct offers for your favorite store.
Why do I see this every time I visit?
If you visit the website and are not logged in, we automatically pick the store closest to you. If you try then log in and have a different store saved with your account, we will confirm which store you prefer. If you clear your browser cookies (or have software that automatically clear cookies) you may receive this each time you visit the site.
To keep this from happening
Select "Keep me signed in on this computer" when logging in or go to your browser's settings and update them to not clear cookies for this website.
Cart Content Notification
We've consolidated the items added to your cart from today with those added during a previous visit. Please review and confirm the items and quantities before checking out.
Close
Cart Error
We were unable to consolidate the items added to your cart today with those added during a previous visit. Please review and confirm the items and quantities before checking out.
Close
Confirm Order Changes?
As a reminder, the changes to your order have not been saved yet.
We're not able to confirm your pending order at this time.