Feel free to change your location anytime.
Sign In / Up

Summary

0

Points Toward
Next Reward

0

Rewards Expiring
End of Month
Feel free to change your location anytime.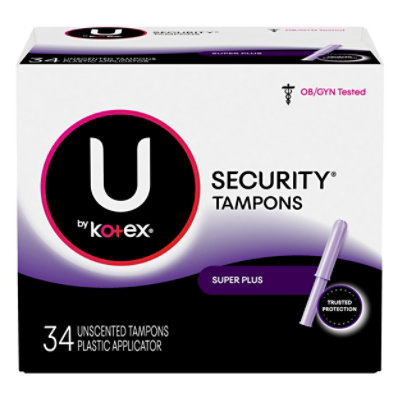 U by Kotex Security Tampons Unscented Plastic Applicator Tampons Super Plus Big Pak! - 34 Count Absorbent Materials Comprised of Cotton and Rayon, Polypropylene Cover, Rayon, Polyester or Cotton String.
Tampons, Plastic Applicator, Super Plus, Unscented, Bigpak!


Trusted protection. Tampon Absorbency Ranges: These absorbency ranges and their corresponding terms are required to be used by all tampon manufacturers to indicate the amount of fluid absorbed using a standard laboratory test. Use the standardized absorbency ranges and terms to make comparisons between tampons and all manufacturers. Choose the minimum absorbency necessary to control your menstrual flow in order to reduce the risk of contracting TSS. Absorbency: Super Plus: 12-15 grams. how2recycle.info. Consumer Services Kimberly-Clark Corp. Dept. UBKSTSP-34, PO Box 2020 Neenah, WI 54957-2020 USA. Since 1919. See our products at ubykotex.com. Super flexible. Satinsoft plastic applicator. Expands for reliable protection. Made in USA from domestic and imported materials.
Warning
Contains: Attention: Tampons are associated with Toxic Shock Syndrome (TSS). TSS is a rare but serious disease that may cause death. Sudden fever (usually 102 degrees F of more), vomiting, diarrhea, fainting or near fainting when standing up, dizziness, or a rash that looks like sunburn can all be warning signs of a rare but serious illness, Toxic Shock Syndrome (TSS). This illness can cause death. Should these symptoms occur, discontinue use and consult a physician immediately. You should also consult a physician before using tampons if you have had TSS warning signs in the past. Women use tampons during their menstrual periods are susceptible to the risk of contracting TSS. The reported risk of TSS is higher among teenage girls and women under 30 years of age, but it can occur at any age. The incidence of TSS is estimate to be 1 in 17 per 100,000 menstruating women and girls per year. Studies in
Directions
Important: Dispose in trash receptacle. Do not flush tampon, applicator, or wrapper. To Dispose: Dispose of properly. Do not flush. How to Use: 1 Wash your hands first. Take off the tampon's plastic wrap and throw it away, but don't flush it! 2 Check the applicator to make sure the string is firmly attached by giving it a little tug. Push gently on the plunger and make sure the tampon is positioned snugly against the applicator petals. 3 To put in the tampon, find a comfortable position either sitting (with your keens apart) or standing with one foot elevated. 4 Put the applicator tip into the opening of your vagina and gently glide it toward your lower back. 5 Keep easing the applicator, and then push the inner tube into the outer tube. 6 When the rings of the applicator are together, the tampon is in correctly. Gently remove both tubes, making sure the string is outside of your body. Do not flush! 7 To remove the tampon, relax and pull on the string at the same angle as the tampon wa
About the Producer
Kimberly-Clark Corporation
Disclaimer
Product details/images for convenience only.  Consult Product label for the most current and accurate information.  We assume no liability for any inaccuracies/misstatements about Products listed on our website/app.
© 2020 Albertsons Companies, Inc. All rights reserved.
Sign In or Sign Up
To use this feature, you must sign in or sign up with JewelOsco.com. To return to browsing, close this window
Sign In or Sign Up
To use this feature, you must sign in or sign up with Jewelosco.com. To return to browsing, close this window
Select Your Store
Cancel
Select a store below to add just for U deals and save on your next shopping trip.
Sorry, no stores found in that zip code. Choose your primary store and relevant offers
LOGO or
LOGO Why am I seeing this?
We found multiple stores for you. One could be your favorite while another might be a store near you, or one you browsed in the past. Since some offers vary by store, we want to make sure we're showing you the correct offers for your favorite store.
Why do I see this every time I visit?
If you visit the website and are not logged in, we automatically pick the store closest to you. If you try then log in and have a different store saved with your account, we will confirm which store you prefer. If you clear your browser cookies (or have software that automatically clear cookies) you may receive this each time you visit the site.
To keep this from happening
Select "Keep me signed in on this computer" when logging in or go to your browser's settings and update them to not clear cookies for this website.
Cart Content Notification
We've consolidated the items added to your cart from today with those added during a previous visit. Please review and confirm the items and quantities before checking out.
Close
Cart Error
We were unable to consolidate the items added to your cart today with those added during a previous visit. Please review and confirm the items and quantities before checking out.
Close
Confirm Order Changes?
As a reminder, the changes to your order have not been saved yet.
We're not able to confirm your pending order at this time.