Feel free to change your location anytime.
Sign In / Up

Summary

0

Points Toward
Next Reward

0

Rewards Expiring
End of Month
Feel free to change your location anytime.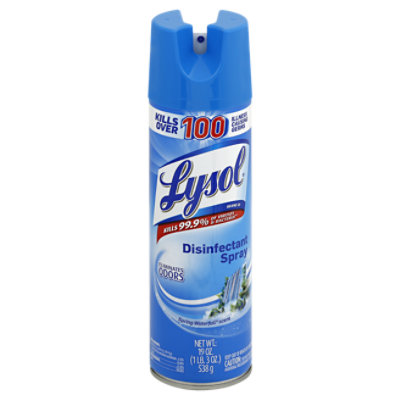 Lysol Disinfectant Spray Spring Waterfall Scent - 19 Oz Active Ingredients: Alkyl ((50%) C14, (40%) C12, (10%) C16) Dimethyl Benzyl Ammonium Saccharinate (0.10%), Ethanol (58.00%). Other Ingredients: (41.90%). Total: (100.00%).
Disinfectant Spray, Spring Waterfall Scent


Kills over 100 illness causing germs. Kills 99.9% of viruses & bacteria (Kills Escherichia coli O157:H7, Salmonella enterica, Staphylococcus aureus, Influenza A Virus (New Caledonia/20/99) and Respiratory Syncytial Virus on hard, non-porous surfaces in 3 minutes). Eliminated odors. One Can Many Surfaces: Kitchen: sinks; garbage cans. Bathroom: bathtubs; shower. Home: door knobs; diaper pails. Soft Surfaces: mattresses; sofas. Use Lysol Disinfectant Spray everyday to kill common illness causing germs on hard non porous surfaces: Acinetobacter baumannii MDR; Acinetobacter calcoaceticus; Acinetobacter haemolyticus; Bordetella pertussis (whooping cough); Burkholderia cepacia; Citrobacter freundii; Corynebacterium diphtheriae; Corynebacterium xerosis; Cronobacter sakazakii (Pre-cleaned surfaces); Enterobacter apromenes MDR.; Enterobacter cloacae; Enterococcus faecalis; Enterococcus faecalis - Vancomycin Resistant (VRE) ATCC no. 55157; Enterococcus faecium VRE+MDR; Escherichia coli; Escheric
Warning
Contains: Keep out of reach of children. Caution: See back panel for additional precautionary statements. Precautionary Statements: Hazards to Humans and Domestic Animals. Caution: Cause moderate eye irritation. Do not spray in eyes, on skin or on clothing. Wash thoroughly with soap and water after handling and before eating, drinking, chewing gum, using tobacco or using the toilet. First Aid: If in Eyes: Hold eye open and rinse slowly and gently with water for 15-20 minutes. Remove contact lenses, if present, after the first 5 minutes, then continue rinsing eye. Call a Poison Control Center or doctor for treatment advice. Contact Number: Questions? Comments or in case of an emergency, call toll free 1-800-228-4722. Have the product container or label with you when calling a Poison Control Center, or doctor, or going for treatment. Physical Hazards: Flammable: Contents under pressure. Keep away fr
Directions
Directions for Use: It is a violation of Federal law to use this product in a manner inconsistent with its labeling. Read the entire label before using the product. Pre-clean surfaces prior to use. Hold can upright 6 inch to 8 inch from surface. Spray 3 to 4 seconds until covered with mist. To Deodorize: Spray on surfaces as needed. To Sanitize: Surfaces must remain wet for 10 seconds then allow to air dry. to Disinfect: Surfaces must remain wet for 3 minutes then allow to air dry. For Norovirus, Hepatitis A virus, Adenovirus 2, Fusarium solani and Mycobacterium bovis BCG (Quant tuberculosis) surfaces must remain wet for 10 minutes then allow to air dry. Rinse toys and food contact surfaces with potable water after use. Fabric Sanitizer: For spot treatment (2 inch x 2 inch area) only. To Spot Sanitize Soft Surfaces: Spray until fabric is wet. Do not saturate. Fabric must remain wet for 30 seconds. Let air dry. For difficult odors, repeat application. To Control and Prevent Mold & Milde
About the Producer
Reckitt Benckiser
Disclaimer
Product details/images for convenience only.  Consult Product label for the most current and accurate information.  We assume no liability for any inaccuracies/misstatements about Products listed on our website/app.
© 2019 Albertsons Companies, Inc. All rights reserved.
Sign In or Sign Up
To use this feature, you must sign in or sign up with JewelOsco.com. To return to browsing, close this window
Sign In or Sign Up
To use this feature, you must sign in or sign up with Jewelosco.com. To return to browsing, close this window
Select Your Store
Cancel
Select a store below to add just for U deals and save on your next shopping trip.
Sorry, no stores found in that zip code. Choose your primary store and relevant offers
LOGO or
LOGO Why am I seeing this?
We found multiple stores for you. One could be your favorite while another might be a store near you, or one you browsed in the past. Since some offers vary by store, we want to make sure we're showing you the correct offers for your favorite store.
Why do I see this every time I visit?
If you visit the website and are not logged in, we automatically pick the store closest to you. If you try then log in and have a different store saved with your account, we will confirm which store you prefer. If you clear your browser cookies (or have software that automatically clear cookies) you may receive this each time you visit the site.
To keep this from happening
Select "Keep me signed in on this computer" when logging in or go to your browser's settings and update them to not clear cookies for this website.
Cart Content Notification
We've consolidated the items added to your cart from today with those added during a previous visit. Please review and confirm the items and quantities before checking out.
Close
Cart Error
We were unable to consolidate the items added to your cart today with those added during a previous visit. Please review and confirm the items and quantities before checking out.
Close
Confirm Order Changes?
As a reminder, the changes to your order have not been saved yet.
We're not able to confirm your pending order at this time.