Feel free to change your location anytime.
Sign In / Up

Summary

0

Points Toward
Next Reward

0

Rewards Expiring
End of Month
Feel free to change your location anytime.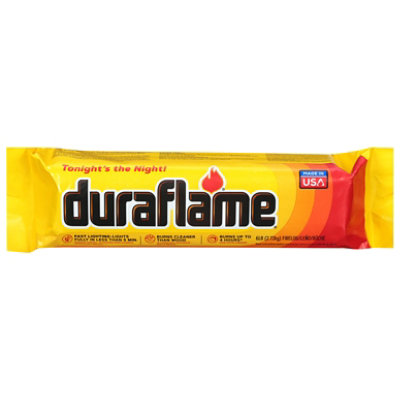 Duraflame Fire Log 4 Hours - 6 Lb Fire Log, 4 Hour


Fast lighting - Lights fully in less than 5 min. Burns cleaner than wood. 4 burns up to 4 hours (Duraflame fire logs may be burned in all types of indoor, open-hearth fireplaces. They are designed to light fast and burn up to 4 hours when used according to instructions. Variations in fireplace and climatic conditions may alter duration of burn. Heat content is approximately 78,000 BTU. If used in an outdoor fireplace/fire pit, use only in a well ventilated area, and not under any form of cover. Weather conditions and wind may cause the log to produce more smoke and burn for a shorter duration). Tonight's the night. Duraflame fire logs provide a robust, convenient and authentic fire experience. Tonight's the night! America's No. 1 fire log brand. Firewise. Burns cleaner than wood. Duraflame fire logs light faster and burn more completely than firewood, and because far less material is consumed when burning a fire log, significantly fewer pollutants are emitted than a comparable wood fir
Warning
Contains: California Proposition 65 Warning: Combustion of this manufactured fire log results in the emission of carbon monoxide, soot, smoke and other by-products which are known by the State of California to cause cancer, birth defects, or reproductive harm and/or other adverse health effects. Caution - Risk of Fire: The Duraflame fire log is designed to light easily with a match or butane utility lighter. Do not use flammable liquids, fire starters, or fireplace gas log lighters to ignite fire log. Do not poke a burning fire log with fireplace tools unless the fire is almost out. Poking or breaking up a burning fire log in the first 3 hours after lighting can cause the fire log to become extremely flammable and result in sudden flare-up. Flaming particles may stick to tools Do not place wood or any other items on a burning fire log. To extinguish fire log in an emergency, use UL listed dry chem
Directions
Read instructions before use. Lighting Instructions: 1. Carefully pull outward on the seam of the wrapper (without tearing) to loosen it from the log and create an air space. 2. Place fire log (only one) on supporting grate with arrows pointing down and seam facing room. 3. Light the seam below each arrow. Close fireplace screen. If your fireplace is functioning properly, emissions of this fire log should be vented outdoors where they dissipate in the air. A properly installed and maintained fireplace and chimney will substantially reduce the possibility of combustion by-products entering your home. If you suspect that your unit is not functioning properly, a qualified contractor should be consulted. The Chimney Safety Institute of America (CSIA) recommends that your fireplace and chimney be inspected annually. For a list of CSIA Certified Chimney Sweeps in your area visit www.csia.org/duraflame. Safety Instructions: For a safe and long-burning fire, follow instructions carefully. Open
About the Producer
Duraflame
Disclaimer
Product details/images for convenience only.  Consult Product label for the most current and accurate information.  We assume no liability for any inaccuracies/misstatements about Products listed on our website/app.
© 2019 Albertsons Companies, Inc. All rights reserved.
Sign In or Sign Up
To use this feature, you must sign in or sign up with JewelOsco.com. To return to browsing, close this window
Sign In or Sign Up
To use this feature, you must sign in or sign up with Jewelosco.com. To return to browsing, close this window
Select Your Store
Cancel
Select a store below to add just for U deals and save on your next shopping trip.
Sorry, no stores found in that zip code. Choose your primary store and relevant offers
LOGO or
LOGO Why am I seeing this?
We found multiple stores for you. One could be your favorite while another might be a store near you, or one you browsed in the past. Since some offers vary by store, we want to make sure we're showing you the correct offers for your favorite store.
Why do I see this every time I visit?
If you visit the website and are not logged in, we automatically pick the store closest to you. If you try then log in and have a different store saved with your account, we will confirm which store you prefer. If you clear your browser cookies (or have software that automatically clear cookies) you may receive this each time you visit the site.
To keep this from happening
Select "Keep me signed in on this computer" when logging in or go to your browser's settings and update them to not clear cookies for this website.
Cart Content Notification
We've consolidated the items added to your cart from today with those added during a previous visit. Please review and confirm the items and quantities before checking out.
Close
Cart Error
We were unable to consolidate the items added to your cart today with those added during a previous visit. Please review and confirm the items and quantities before checking out.
Close
Confirm Order Changes?
As a reminder, the changes to your order have not been saved yet.
We're not able to confirm your pending order at this time.