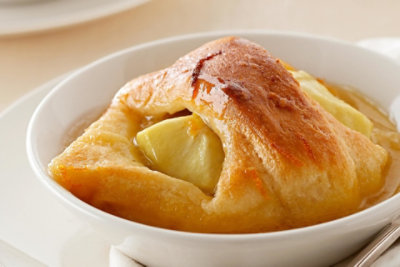 Recipe by
Better Homes & Gardens
Apple Dumplings with Orange Sauce
Pastry-wrapped apples bake in a buttery, cinnamony citrus sauce and are heavenly served warm with a dollop of whipped topping.
1 hour, 10 mins
Total cook time
Total original price
* Estimated price based on adding all ingredients to cart.
Main Ingredients
1 teaspoon finely shredded orange peel,
1 cup orange juice,
3 tablespoons butter,
2 tablespoons sugar,
2 3-inch pieces cinnamon sticks,
1 8-ounce package refrigerated reduced-fat crescent rolls,
2 tart cooking apples, peeled, cored, and quartered,
½ cup frozen fat-free whipped dessert topping, thawed,
Cooking Instructions
Step 1
Preheat oven to 350°F. Lightly coat a 2-quart rectangular baking dish with cooking spray; set aside.
Step 2
For orange sauce, in a small saucepan combine orange peel, orange juice, butter, sugar and cinnamon sticks. Cook over medium heat just until mixture starts to boil. Pour orange sauce all at once into prepared baking dish.
Step 3
For dumplings, on a clean, dry work surface, unroll crescent roll dough; separate into sections. Wrap each apple quarter with one section of the dough. Place in a single layer in prepared baking dish; spoon orange sauce over dumplings.
Step 4
Bake for 35 to 40 minutes or until golden brown, spooning orange sauce over dumplings halfway through baking time. Cool for 15 minutes. Serve warm with whipped topping.
All recipe ingredients should be cooked to a safe internal temperature according to USDA guidelines. After preparing a recipe, please store any leftovers in the refrigerator.