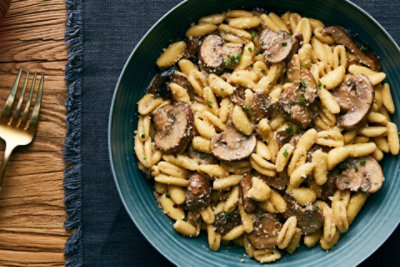 Mushroom Cavatelli with Mascarpone and Chives
You loved this deliciously decadent pasta so much, we're bringing it back as a repeat recipe this week. Mini pasta shells known as cavatelli are tossed in a white wine–mushroom sauce, made creamy with mascarpone cheese. An added burst of umami flavor comes from porcini mushroom powder, which is whisked into the pasta cooking water and used to thicken the dreamy sauce. Chives and a sprinkling of Parmesan cheese take this must-make meal to new heights.  
Total original price
* Estimated price based on adding all ingredients to cart.
Main Ingredients
1 pound cremini mushrooms
4 ounces oyster mushrooms
6 ounces shiitake mushrooms
1/8 ounce chives
4 cloves garlic
1/2 stick unsalted butter
1/2 cup white wine
1 pound cavatelli pasta
1 teaspoon porcini mushroom powder
8 ounces mascarpone cheese
1 ounce grated Parmesan cheese
kosher salt
black pepper
Cooking Instructions
Step 1
Bring a large pot of water to a boil over high heat. Remove and discard mushroom stems, then wipe caps clean with a damp paper towel and cut into .25-inch slices (see recipe tip). Rinse chives and thinly slice. Thinly slice garlic.
Step 2
Heat butter in a large high-sided pan over medium-high heat. When butter is foamy, add mushrooms and garlic and sauté, stirring occasionally, until mushrooms begin to brown, 13-15 minutes (move on to Step 3, but don't forget to come back!). Then, add wine and cook, scraping up brown bits from bottom of pan, until liquid is mostly evaporated, about 1 minute more. Season with .25 teaspoon salt and pepper as desired.
Step 3
While mushrooms cook, season boiling water generously with salt. Stir in cavatelli and cook, stirring occasionally, until al dente, 11-12 minutes. Reserve 1 cup pasta cooking water for porcini broth, then drain and set aside (see recipe tip).
Step 4
Once cavatelli is cooked and drained, whisk porcini powder into reserved pasta water until fully dissolved. Set aside until mushrooms are cooked. 
Step 5
Once mushrooms are cooked, add cavatelli to pan, still over medium-high heat, and stir to combine. Stir in porcini broth, 2 tablespoons at a time, until sauce is silky and clings to pasta, 1-2 minutes. Stir in mascarpone to fully coat pasta. Then, remove pan from heat and stir in half of Parmesan.  
Step 6
Taste mushroom cavatelli and add salt and pepper as desired. Divide among serving bowls and garnish with chives and remaining Parmesan. Dig in! 
All recipe ingredients should be cooked to a safe internal temperature according to USDA guidelines. After preparing a recipe, please store any leftovers in the refrigerator.