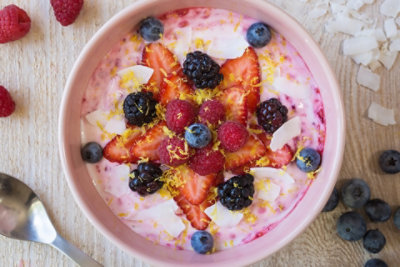 Berries & Cream Fruit Swirl
Berries & Cream (Greek yogurt) is a delicious combination of raspberries, strawberries, blueberries and blackberries. Each delicious bite will satisfy your sweet tooth and you'll also get some amazing antioxidant and immunity boosting benefits as from the berries as a bonus! You can add some grated lemon or orange zest as a topping for an extra layer of freshness! Not only does it look pretty – it makes a perfect breakfast, afternoon snack or even better dessert!
Total original price
* Estimated price based on adding all ingredients to cart.
Main Ingredients
1/4 cup fresh,ripe raspberries
1/2 cup Open Nature™ vanilla Greek yogurt
1/2 cup mix of fresh blueberries, blackberries and strawberries (cut into large chunks)
1/4 teaspoon lemon zest
1 teaspoon frozen, unsweetened shredded coconut
Cooking Instructions
Step 1
In a small serving bowl, add raspberries and mash them with the back of a fork. 
Step 2
Scoop in the Greek yogurt, and fold it in with the raspberries, swirling once or twice. 
Step 3
Make a little well in the middle where you can scoop in the berries. Sprinkle lemon zest and coconut on top of the berries in the middle. Eat immediately in whatever fashion! 
All recipe ingredients should be cooked to a safe internal temperature according to USDA guidelines. After preparing a recipe, please store any leftovers in the refrigerator.